Hallo ihr Lieben Engineers,
es gibt eine Umfrage von Keen Software House an alle Serverbetreiber.
Space Engineers MP Server Feedback:
The team at KeenSWH would like to gather some feedback from server admins in our community to help us understand the main problems they experience with hosting Space Engineers worlds.
goo.gl/forms/2PB89MwJ9R6sWPIk2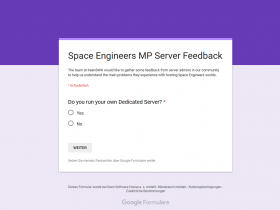 Habt ihr Spieler auch Fehler oder Verbesserungen was den Space Engineers MP Server angeht, dann könnt ihr das gerne hier dazu schreiben.
LG Stephan(steff)